The charming town of Seminyak is in a league of its own. It has become one of the more upmarket townsfamed for its finest dining scenes.  Proudly displaying an array of fancy retail outlets, gift shops, numerous beach clubs, bars, cafes, and a dazzling nightlife. It is the hob of hip clothing and accessories, and innovative fashion stores, boutiques, designer labels, art galleries and studios, a modern shopping complex with more designer shops. So as you can see it is a great place for teenagers, burgeoning adults and the young at heart. It has a pulse that is uncommon to any of the other Balinese destinations. You will certainly find plenty to see and do in this town. It has the advantage of having a bustling town life, and for those who enjoy water sports, fantastic opportunities for surfing, white water rafting, and snorkeling. Seminyak is also well known for its spectacular sunsets making it an ideal destination for a romantic getaway. In essence there is something for everyone.
Accommodation:
Villas have become the main choice for vacationers visiting Bali.  Depending on your budget and holiday requirements  www.seminyak-villa.com come in all different shapes, sizes and prices. Private and self-contained villas can be found at reasonable prices during the months of April, May, June and September. Easter, Christmas and New Year are the busiest months and it is worth checking online for rates if you plan to travel during this time.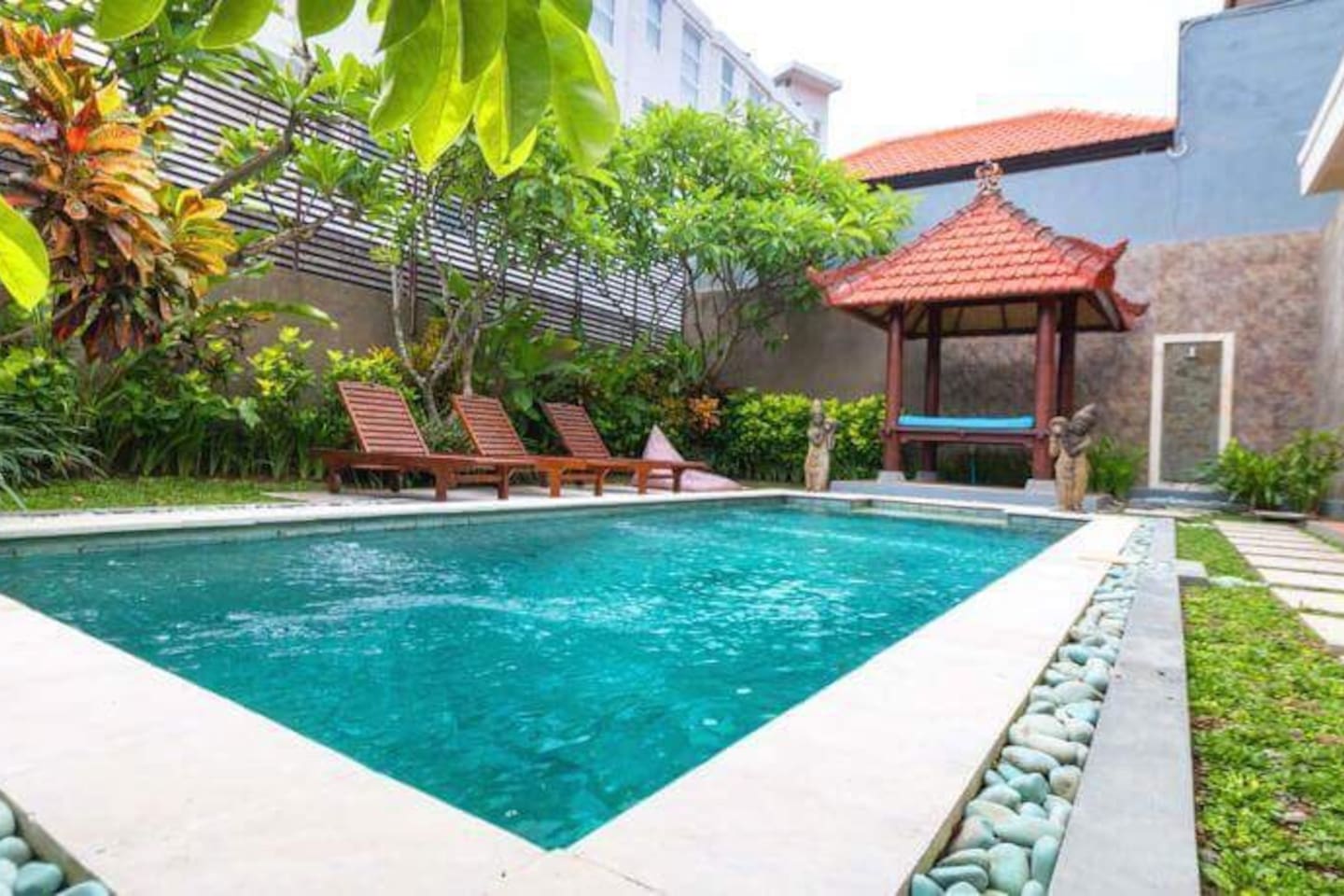 Villas range from cozy one-bedroom accommodation for couples or single people, to two or more bedrooms with a capacity to house families, friends or travelling parties. They are centrally located with the nearest beaches just a stone's throw away. The villas come complete with a fully functioning kitchen, home entertainment systems, shelves lined with books and beautifully handcrafted furniture and accessories made with local materials. The living spaces have a home from home feeling, spacious and luxurious, designed to very high specifications with a contemporary, rustic, elegant, or traditional Balinese feel, something to suit everyone's taste.
Outdoor areas consist of private swimming pools set in immaculately maintained grounds with lush tropical foliage and fauna. The pools are equipped with day beds, sun umbrellas, towel rack, pool bar and barbecue facilities, children-friendly amenities, and staff at your disposal.
Seminyak is well placed for access to the main cultural center of Bali as well as other tourist attractions. For the avid golfing enthusiast Bali boasts three world-class golf courses. If you enjoy being in nature take a day trip to the spectacular terraced rice paddies. Your Villa Manager would be more than happy to organize this for you. Alternatively, if you feel like being closer to home, you can always use the on-site facilities such as the fitness room, treat yourself to a legendary Balinese massage at one of the spas or take up yoga at one of the schools.  Wind down to evening playing cards by the pool with bottle of chilled wine.
Be sure to book your villa now and be prepared foran exceptional holiday. This may well be the beginning your travel and many more Balinese holidays for you.